Jerry Platz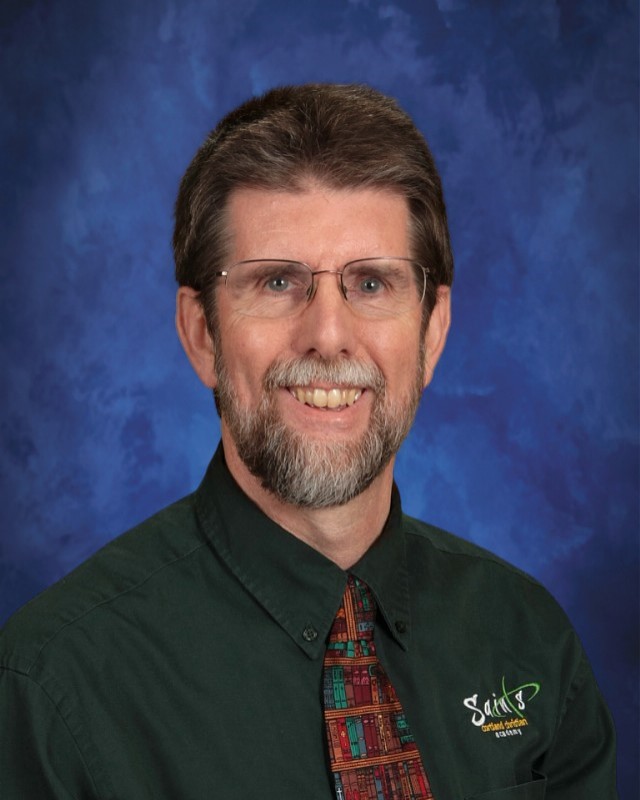 Jerry Platz
Science
Employed Since: 7/22/2018
3 Years Experience At School
PERSONAL AND FAMILY INFORMATION
PERSONAL AND FAMILY INFORMATION:
I grew up in the small Midwestern town of Shelbina, Missouri, where my dad was Science teacher in the local schools. My mother was also a teacher (Art and Home Economics) in other nearby school systems. My parents read me Bible stories every night, and when I was about 9 or 10 years old, I put my faith in Jesus as my Savior from my sins. During and after college, I grew a lot in my faith through the ministry of Park Street Church in Boston, and spent much of my non-work hours in the student discipleship ministry there. I studied molecular biology at MIT and worked in two academic labs and 2 startup biotech companies for about 10 years afterwards. My wife Kathy came into my life at Park Street Church, and we were married there in 1988, after I had begun seminary part-time. Kathy's family has roots on the coast of Maine, and we've been there some almost every summer. Since Boston, we have also in rural towns in Minnesota, Missouri, and New York state. Our new home is in Apalachin. We (mainly Kathy) homeschooled our two kids, Elizabeth and David, and they're now out getting further education. Interesting facts: Kathy started teaching science at Ross Corners Christian Academy in Vestal at the same time I started here at CCA; and my two younger brothers are both engineers with Aerospace background.
I enjoy nature hikes, reading science fiction/ fantasy, watching Star Trek and similar shows, small carpentry & home repair projects (when they work!), family adventures, and worshipping with God's family.
EDUCATION
South Shelby High School, Shelbina, MO – 1977
Massachusetts Institute of Technology – S.B. in Life Science, 1982
Gordon Conwell Theological Seminary – M.Div in pastoral ministry, 1994, Cum Laude
MINISTRY AND EDUCATION EXPERIENCE
1978-1992 Helped lead Park Street Church's collegiate, young adult, and young Married ministries in the heart of urban Boston/Cambridge. Discipled and trained leaders in evangelism, discipleship, small group leading, shepherding, event-organization, and worship leading.
1994-2008 Pastor of First Congregational Church of Mantorville, MN
2012-2018 Pastor of First Congregational Church of Berkshire, NY, including weekly preaching, and many teaching times and seminars, etc., as well as all other aspects of small church ministry.
2009-12, 2014-2018 Substitute Teacher at various public high schools in Missouri, and Newark Valley, NY, in STEM areas as well as Art, Language Arts, and History/ Social Studies, all of which I'm somewhat versed in.
ABOUT YOUR TIME AT CCA
I love our students and staff, and enjoy seeing how God works in their lives – and mine, too! And I love how our awesome God has intricately created all the things we study through science. The more we learn, the more we can know about the One who designed it all.